Warburtons crumpet cake
SKU: [ bir-239 ] Cake sizes (2 X 8″)
Approx portions (30)
Available in a range of colours and sizes
Warburtons crumpet novelty cake. This novelty celebration birthday cake was another special request for one of our customers. The surprise birthday cake was for their partner who loves warburtons crumpets. We have designed the cake board to look like a side plates and hand decorated a flower pattern around the board.
The replica crumpets were made from 2 x 8 inch cakes and were made out of our own in house soft vanilla sponge with a jam and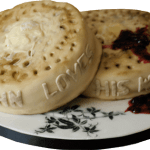 strawberry conserve filling. Once we had the right colour for the icing the cake was then covered and given a hand detailed effect of a warburtons crumpet. We then hand coloured around each of the holes to give the effect that it was a real toasted warbby. On the top of the warburtons novelty cake we added our own mix of edible replicated butter, together with some real strawberry conserve.
Around the sides of the replicated crumpets we put the inscription "John loves his warbies" which also has the effect of being a part of the warburton, as requested.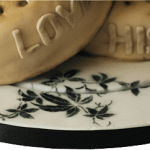 When it was all put together it was very hard to tell the difference between the cakes and the real thing (Of course the size would give it away 🙂 ).
There is no delivery charge for any birthday, novelty or other celebration cakes in the immediate area of Derby or Nottingham. Other areas will incur a nominal delivery charge to cover fuel. We will deliver all of our cakes in person to the requested address, venue.
Price for this cake (As in image) £75.00
Use the form below to order online, or if you prefer speak to or email us direct.