Rose Bed Wedding Cake
Red rose weddng cake
Click on the images below for a larger view.
SKU: [ wed-346 ].
Cake sizes used (12 inch, 10 inch 8 inch and 6 inch)
Approx Portions (130)
Rose bed wedding cake. This Wedding Cake With Rose Bed is available in a range of sizes flavours and colours.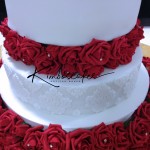 Rose bed wedding cake. A beautiful red rose wedding cake with white icing. The wedding cake consists of 4 cake tiers and three separating tiers. Each of the separators are adorned with 2 layers of red roses. We also added some diamante pins into the flowers for that extra sparkle.
Available in a wide range of colourful flowers, which means, you are not tied to the red rose wedding cake. Choose a different style of flower and colour to suit your wedding theme.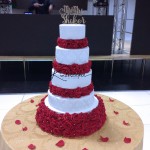 Egg free cakes that are provided by us are also suitable for halal. With no traces of animal fats or alcohol. Other dietary requirements can also be catered for and are available on request. Each tier of this regal wedding cake, with the exception of the 6 inch tier, are enrobed with a white fondant.
The rose bed wedding cake sits on our custom disposable base. This has also been decorated with up to three rows of flowers, which also include more diamante pins. The second and top tier have been left plain, whilst the base and third tier have been carefully decorated and embossed with floral decoration..
A different flavour was chosen for each tier of this wedding cake with rose bed. The happy couple made their choice of flavours from our wide range that we have available.
Delivery and setup of the rose bed wedding cake was completed at the bride and groom's venue. We always offer a full delivery and setup service of our wedding cakes. Looking for a large venue for your wedding? Check out Alrewas Hayes Countryside Venue here
Price £475.00  (As per the image. The topper is not included)
Rose Bed Wedding Cake
Wedding Cake With Rose Bed
Please note decorations may vary slightly as each cake is baked individually.
Price for this cake (As in image. Topper Not Included) £475.00 (Other Sizes Available On Request)
Use the form below to order online, or if you prefer speak to or email us direct.
Rose Bed Wedding Cake
More about our cakes
If you have a particular design you would like for your wedding cake, then please feel free to contact me to discuss your requirements. Large or small, every wedding cake is made with the utmost care and presentation. With over 40 cake flavours to choose from, you will be spoilt for choice. All of our cakes are baked and decorated less then 48 hours prior to delivery and set up. We bake our cakes the traditional way from scratch, using only fresh ingredients. We provide samples at all of our consultations on request. Take a look at our Asian Wedding Cakes page

Our cake flavours
Most of our flavours can be baked into all of our cakes, including Gluten Free, Dairy Free, Egg Free and Halal. Have you ever tried a cake sample that seems crumbly and dry. Then come and taste our cakes. We do not use additives / flavours or long life sponges or mixes. We pride ourselves in providing all of our customers with real home made cakes. Take a look at our unique cake flavours here