Regal Wedding Cake
Regal Wedding Cake
Click on the images below for a larger view.
SKU: [ wed-345 ].
Cake sizes used (12 inch, 10 inch 8 inch, 6 inch, 4 inch)
Approx Portions (150)
Available in a range of sizes and flavours
Regal wedding cake, Asian inspired with a modern twist. All tiers of this gorgeous wedding cake are made with eggless sponge. Flavours for each of the tiers were chosen from our vast range and consisted of; Mango and Cardamom, Fresh Strawberry sponge, Vanilla, Lemon and Lime, and Red Velvet.
Our egg free wedding cakes, like all others, are baked fresh to order. We use only the best available fresh ingredients to create our flavours.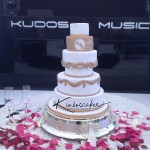 Egg free cakes that are provided by us are also suitable for halal. With no traces of animal fats or alcohol. Other dietary requirements can also be catered for and are available on request. Each tier of this regal wedding cake, with the exception of the 6 inch tier, are enrobed with a white fondant.
The tiers are then decorated with a gold rope effect applied to the bottom two tiers, with a gold rose swag draped around the top edge of the 10inch.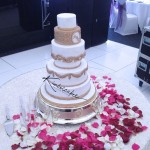 A cake separator decorated with white fondant is positioned in-between the second and third tier with a gold beading around the base. To compliment the design the third tier was decorated with a gold regal scroll detailing to the base of the cake.
On the fourth tier, this has been enrobed with a gold fondant and Delicate Scroll detailing which encompasses a personal touch with the bride and groom's initials.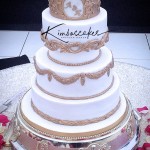 To balance the overall design the top tier is decorated with a gold ribbon to the base of the cake.
Delivery and setup of the regal wedding cake was made at the bride and groom's venue. Their chosen venue was the Nadee at Findern, Derby. (Now known as Heathland Grove). They have undergone extensive rebuild and refurbishment. This has totally transformed the venue.
Price £525.00  (As per the image)
Regal Wedding Cake
Please note decorations may vary slightly as each cake is baked individually.
Price for this cake (As in image) £525.00 (Other Sizes Available On Request)
Use the form below to order online, or if you prefer speak to or email us direct.
Regal Wedding Cake
More about our cakes
If you have a particular design you would like for your wedding cake, then please feel free to contact me to discuss your requirements. Large or small, every wedding cake is made with the utmost care an