Pink stargazer lily wedding cake
SKU: [ wed-238 ] Cake sizes (10?, 8?, 6?)
Approx portions (90 – 100)
Available in a range of colours and sizes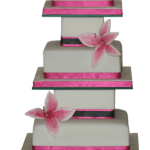 Pink stargazer lily. Another of our climbing Phoenix range of cakes. This particular cake was delivered and set up in person to our Bride and Groom in Colchester.
Each tier in this pink stargazer cake is dressed in white icing with black and pink ribbons around the base. The tiers are all separated with false blocks and glass. The false blocks are also decorated in an identical way to the tiers and match in height and sizes accordingly.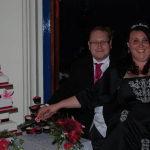 The cake is available in a full range of colours, sizes and flavours to suit your theme. You can see a list of our most popular flavours from the menu above.
The pink stargazer lilies on this cake are all made individually by hand out of flower paste and can either be kept as a momentum of your day or eaten. Each petal is also decorated individually. When stacked together this cake like its sister cakes stands tall and proud and will certainly wow the guests at your reception.
If you would like to know more about this cake then please do not hesitate to contact me directly using the number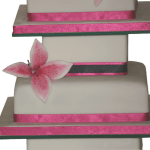 on the top of the page, or, by filling in our contact above. The price shown below includes a hand made iced flower spray to attach to the cake knife. Table decoration to match the cake and your choice of flavours, colours or flowers.
Please note decorations may vary slightly as each cake is baked individually.
Deposit is required for the glass stands.
Price for this cake (As in image) £375.00
Use the form below to order online, or if you prefer speak to or email us direct.