Vuitton Bag Shoe Cake
SKU: [ bir-240 ] Cake size approx (8″ x 5″ x 3″)
Shoe size approx (4-5)
Approx portions (25-30)
Available in a range of colours and sizes
Vuitton bag shoe cake. Another of our fashion style cakes. A Louis Vuitton bag shoe cake. Both of these items are completely edible. Both items are laid out on a 12 inch  iced cake board which is decorated with ribbon around the base. The Louis Vuitton shoe is made and shaped completely by hand out of edible flower paste. Choose to either eat it or keep it as a memory of the birthday / occasion.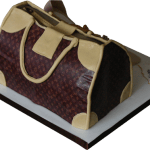 This particular hand bag was made from our own home baked vanilla sponge. Made with all fresh ingredients, including fresh vanilla pods. Carved and shaped from the initial 10″ sponge, the Louis Vuitton hand bag is then carefully decorated and coloured as close to match as we can to the real thing.
As with all of our cakes special attention is given to the finer details which make the complete hand bag cake and shoe as authentic as possible.
Delivery to Nottingham and Derby are is free of charge. We deliver all of our cakes in person all over the UK for a nominal fuel charge.
Please note decorations may vary slightly as each cake is baked individually.
Price for this cake (As in image) £85.00
Use the form below to order online, or if you prefer speak to or email us direct.