VW Camper Van With Large Cup Cakes
SKU: [ wed-205 ] Camper Van Size (As in picture) 6 x 4 x 4
Approx portions for VW (As in picture) 20+
Cup Cake Size (As in picture) Muffin Size
Cake flavours (Most flavours available)
A VW Camper van top tier wedding cake with 130 cupcakes. All the cupcakes were hand made and hand piped with icing individually fresh to order 24 hours before the day. The flavour for these cupcakes was vanilla using real vanilla pods for the flavouring. The butter cream is made with our own recipe and is made with real butter. Iced with alternating Ivory and Teal butter cream to compliment the colour of the VW camper van.
The VW Camper van top tier was also made with our moist fresh vanilla recipe. Decorated carved, shaped and iced by hand with attention given to detail for all the lights, mirrors, VW badge and all other items. The bride and groom are hand made sugar iced pieces and had the hair and stubble coloured as per the couples request.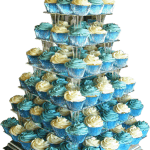 The cup cakes and VW Camper van top tier are available in a full range of colours and flavours. The cakes were delivered and set up at the Bride and Grooms venue at Henley in Arden Warwickshire by us in person, as are all of our cakes.
There is no delivery charge within the Nottingham and Derby area and a small delivery charge is made for outside of these areas. We will deliver to anywhere in the UK. The price includes setup at your venue, iced table decoration and a hand made iced flower spray for the cutting knife.
Price of cup cakes (As in image) £3.00 each
Price of top tier (As in image) £75.00
Use the form below to order online, or if you prefer speak to or email us direct.