Fireman Sam Large Cup Cakes
SKU: [ child-204 ] Cake flavours (Most flavours available)
Large fresh baked fireman sam cupcakes with fireman Sam iced figurines. All of our cup cakes have the same attention given to them as any other celebration cake. Every cup cake is baked and decorated by hand no more than 48 hours prior to delivery to ensure complete freshness.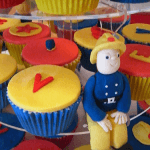 The fireman Sam cup cakes are available in a variety of flavours and colours. As we make all of our cakes to order, we are able to offer a full range across the board for every cake we make.
The fireman Sam iced figurines are also hand made and decorated individually each one made will vary in shape and design.
Our cup cakes are not your normal small size that you see. We make all of our cup cakes just under muffin size. This ensures everyone gets a nice size cake, and, importantly, the children and adults are happy.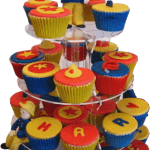 Also available for hire (if you have ordered the cup cakes from us) is our multi tier cup cake stand. It will hold up to 90 cup cakes and also have room on top for a cutting cake.
The fireman Sam cup cakes shown here are vanilla flavour using only the best fresh vanilla pods. You can even have rich dark or light Belgian chocolate cup cakes. We do not use cocoa powder or colouring in our chocolate cakes. Only the finest Belgian chocolate will do. The flavour of cup cake you choose for these fireman Sam's is will not affect the price. Our cup cakes are all full size.
Price of cup cakes (As in image) £2.50 each
(There is no extra charge for the 3 figurines)
Use the form below to order online, or if you prefer speak to or email us direct.