Golden Anniversary 2 tier
SKU: [ ani-206 ] Cake size (As in image) 10 inch and 6 inch
Approx Portions (40)
Cake flavours (Most flavours available)
Full range of colours and flowers available
This traditional style Golden Anniversary cake is made with our own refreshing lemon sponge recipe together with a filling of lemon butter cream.
Both tiers of this 50th Golden Anniversary cake are draped and covered in a beautiful soft ivory fondant. Each tier is decorated with hand iced beading around the base and little white contrasting hearts carefully placed around the sides of the tier.
Just above the beading we have hand made an iced white ribbon also in a delicate contrasting white to set it off just right against the soft ivory background. Around the tops of the iced ribbon the anniversary cake has a small amount of gold bows.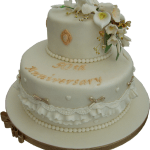 The base of the top tier has also been decorated with small beading and then carefully decorated with hand-made iced jewels that have been carefully coloured with s gentle soft gold shimmer.
On top of the cake we have made an iced flower spray, each one individually made by hand. Finally on the top of the base tier, we have in scrolled iced wording in gold saying simply 50th Anniversary.
The cake was delivered free of charge to our customers venue in Hucknall, Nottingham. We will deliver this Golden Anniversary cake to any location in the UK (delivery charges apply).
The cake is available in a wide range of colours. As we bake all of our own cakes direct to order we can offer a larger range of over 30 different flavours.
Price  (As in image) £125.00
Use the form below to order online, or if you prefer speak to or email us direct.