Vintage Gingham & Lace Wedding cake
SKU: [ wed-283 ] Cake sizes (As in picture) 10 inch, 8 inch and 6 inch
All cake flavours available (See our popular flavours here Unique Cake Flavours)
Approx portions (As in picture) 90 – 95
Vintage gingham. A unique wedding cake with a difference. Mixing rustic, vintage gingham, lace and country all into one. A three tier cake (4 if you include the teapot) set on a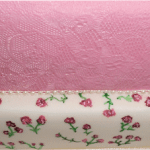 12 inch iced board.
The base tier has been decorated with individually hand painted flowers. The second tier has been covered in a gentle pink icing and had a subtle iced lace laid all around.
The top tier of this vintage gingham cake has been given a country gingham effect and has a lovely hand made and decorated tea pot on the top. Each of the three tiers has a vintage type beading around the base. This particular cake was delivered to the Bride and Grooms venue in Derbyshire. Set in the countryside, the venue has refurbished a large quaint pig sty into a cosy venue for the smaller wedding breakfast. The barn attached to the side of it is large and can accommodate plenty of guests.
Whatever style you would like for your vintage theme, we will work with you to ensure that your wedding cake looks how you would like it to. As with all of our cakes, there is no extra charge for different sponge flavours on each tier. We have over 30 unique flavours for both wedding and celebration cakes.
Please note decorations may vary slightly as each cake is baked individually.
Price for this cake (As in image) £350.00
Use the form below to order online, or if you prefer speak to or email us direct.