Strawberry Belgian.
SKU: [ bir-284 ] Cake size used (As in picture) 9 inch
Belgian Chocolate Cigarillos
Full range of cake flavours available
Gluten and Egg free available
Approx portions (As in picture) 35 – 40
Strawberry Belgian chocolate: A beautiful loving birthday or celebration cake for your loved one. This cake is set on a 12 inch round cake board, which has hand iced and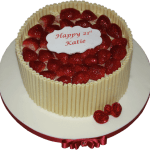 decorated roses covered in sparkle.
The strawberry Belgian cake is coated in a rich white chocolate ganache and all of our cake flavours and types are available for this cake. The outside of the cake is surrounded by sumptuous Belgian chocolate cigarillos.
The top of the cake is also sprinkled with shredded Belgian chocolate pieces and then covered in luscious fresh strawberry halves. Each of the strawberries is also coated in edible glitter to add that extra sparkle.
One of our popular bespoke cakes that we have delivered to Derby, Nottingham, Yorkshire, London and many other places. We only use the finest cigarillos.
The strawberries are always fresh and sourced from local suppliers. Though they may not always be English strawberries, they will always be fresh juicy and succulent.
Choose from either Milk, Dark or White chocolate cigarillos or, why not be extravagant and have more than one type. Enrobe this strawberry Belgian in your choice of cigarellos. You may also choose the cake type and flavour that you require from our extensive range of cake flavours. Whatever you require I am sure you will find one of our unique cakes suitable for your requirements.
Catering for most religious diets, including Hindu and Muslim.
Please note decorations may vary slightly as each cake is baked individually.
Price for this cake (As in image) £65.00
Use the form below to order online, or if you prefer speak to or email us direct.