Burgundy Drape Wedding Cake Ribbon & Bow
SKU: [ wed-282 ] Cake sizes (As in picture) 12 inch and 10 inch
Approx portions (As in picture) 90 – 95
All flavours available
All colours available
Burgundy drape & ribbon. A simple and elegant wedding cake. Set on two cake boards, each of which were iced and decorated with burgundy ribbons with a bow and diamante on the second board.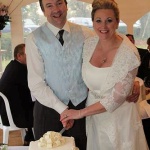 The burgundy drape cakes have been covered in a gorgeous white fondant and have diamante chains around the base of each tier. These cakes were hand carved into a hexagon shape. A list of our most popular cake flavours (of which all are available for this cake), can be found here Cake Flavours
Around each side of both cakes, we have hung drape effect iced ribbons, which are finished off on each corner with small flowers and edible silver pearls at the centre of each of them.
On the top tier of this burgundy drape, we have made some hand iced bows and made a bump out of these. The bows are also decorated with diamante pins in-between them. Apart from burgundy, this cake is available in all a full range of colours.
This cake is also available in a multi-tier option. Your choice of sponge flavours for each tier is included in the price. With free delivery and set up for your wedding cake within Derby and Nottingham also included. For delivery to other areas, there is a nominal fuel charge. This makes all of our wedding and celebration cakes available to people all over the UK.
Please note decorations may vary slightly as each cake is baked individually.
Price for this cake (As in image) £175.00
Use the form below to order online, or if you prefer speak to or email us direct.