Tropical Island Coconut Cake
SKU: [ bir-279 ] Cake size used 6 inch round ball shape, 8 inch base tier
Approx portions (As in picture) 30 – 40
Cake flavours (Most flavours available)
Tropical Island 3D Coconut Cake. A birthday celebration cake with a tropical island theme. This cake has been put on a cake board which has been covered in an edible sand effect. It has little molluscs and pebbles dotted around on it. The base tier has been made in sky blue and then given a three tone orange colour to replicate a sunset. Also on this tier there are some birds hand painted on and small palm trees and flowers.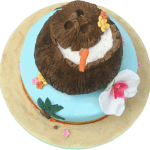 The top tier has been hand decorated to replicate the look of a coconut that has had the top cut off and used as a lid. Inside this tropical island cake the top has been decorated to look like a creamy cocktail. Around the sides of the coconut, we have placed replicas of tropical fruit like, pineapple and mango. The straw has also been made out of icing. To finish the look we added a tropical hand made flower against the side of the coconut. Why not go for one of our unique cake flavours such as, Mojito, Pina colada, Passion fruit or something else.
Do you have a favourite tropical drink? Would you like us to replicate it into a unique bespoke celebration cake? Use our contact form and drop us a line to see what we can do for you. We can even add most tropical drink flavours to our unique recipes to ensure you get the required taste from the cake.
Please note decorations may vary slightly as each cake is baked individually.
Price for this cake (As in image) £75.00
Use the form below to order online, or if you prefer speak to or email us direct.