Radley Jimmy Choo Birthday Cake
SKU: [ bir-278 ] Cake sizes used (Radley Bag 10 inch) (Jimmy choo box 10 inch)
Approx portions (As in picture) 75 – 100
All cake flavours available
Full range of colours
Radley Jimmy Choo Fshion Cake. Set out on 2 adjoining 12 inch square cake boards. Both of the boards have been decorated with a silk blanket effect. A hand made Stargazer Lily is placed between the two cakes. An ideal fashion statement displaying both Jimmy Choo shoe and box ( Shoe is based on a ladies life size 5 shoe ) and Radley Hand Bag.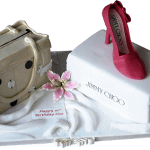 The Radley hand bag is replicated from an actual image that we were given. Each detail is replicated onto the actual cake, right down to the stitching and zip. The discs and dog are all made from edible icing. On the right we have the infamous Jimmy Choo shoe box and shoe. The shoe is also edible and is based on a life size shoe.
These Radley Jimmy Choo cakes are available in all of our flavours, with the exception of chocolate fudge which is not suitable for carving the Radley Hand Bag. The cakes are also available in a gluten or egg free version for the Jimmy Choo box. All of our cakes are free from animal fat and animal products, making them suitable for most religions.
If you have a fashion item you would like making into a custom cake, then please get in touch.
Please note decorations may vary slightly as each cake is baked individually.
Price for this cake (As in image) £125.00
Use the form below to order online, or if you prefer speak to or email us direct.