Subway Baguette Cake
SKU: [ bir-280 ] Cake size used (As in picture) 10 inch
Approx portions (As in picture) 20
A subway baguette cake. Definitely one for the vegetarian. This subway baguette cake like all others we make is free from animal fat. It comes in all of our flavours and types of cake, including Gluten Free.
All of our dietary cakes come in a wide range of flavours which are all made from fresh fruit and other fresh ingredients. An ideal custom novelty birthday cake.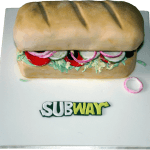 Made from a 10 inch cake which has been made and then hand shaped and decorated to resemble a baguette, club roll.
Careful attention was given to get the colouring and shape correct, especially for the top half of this baguette cake. The inside of the cake has been filled with hand made, shaped and coloured salad items. These include red onion, lettuce, cucumber, olives and tomato, and has also been given the additional mayonnaise look poured over it.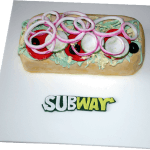 As with all of our cakes, no matter what the occasion, time is taken to give this cake a realistic and effective look.
To us it makes no difference what type of cake you order, we pay the same amount of attention to detail on all of our cakes. Each cake is baked fresh to order, les than 48 hours prior to delivery.
Other fast food cakes are also available including McDonalds and Kentucky Fried Chicken cakes
Please note decorations may vary slightly as each cake is baked individually.
Price for this cake (As in image) £65.00
Use the form below to order online, or if you prefer speak to or email us direct.