Suzuki motorbike 3D cake
SKU: [ bir-266 ] Approx size ( 22″ long, 10-12″ high, 4-5″ deep )
Most cake types and flavours available.
Approx portions between 45 – 60
Larger sizes are available on request.
Other custom motorbike cakes  made to order.
Suzuki motorbike 3D cake. A custom bespoke 3D Suzuki motorbike novelty birthday cake. We also make all other types of custom motorbike cakes on request. This one was made for one of our customer's in Derbyshire, and we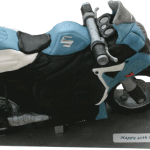 will make and deliver all of our cakes in person all over the UK. This particular cake was made from our luscious fresh baked vanilla sponge with strawberry conserve and butter cream.
Like all of our cakes, this Suzuki motorbike style novelty cake was baked fresh and then carved and styled less than 48 hours prior to delivery to our customer. Taking almost 16 hours to put together and decorate it stands upright on the cake board and is only supported in the centre where the bike stand would be located.
Everything except for the inner rim of the wheels is also edible. Careful attention was used on all the detail on this motorbike. The tyres have been made to look like lo pro racing tyres and the tyre tread has been hand grooved.
Edible mudguards have been attached above both the front and back wheels, and each wheel also has the disc brake detail on them. A full face crash helmet was also made to match the colour of the bike and sits beside it on the board. The board has been iced in tarmac grey.
The exhaust and handle bars are also edible as are the clutch and brake handles. The motorbike cake has been coloured as per the customer's request. Like all custom / bespoke novelty / birthday / celebration cakes we do ask for good all round photos of the item that you wish to be replicated into a cake.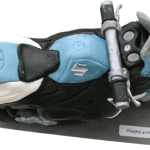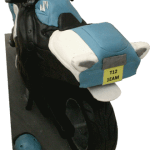 The finished cake is made to look as though it is on its own motor bike stand and once completed we added all the other finishing touches such as indicator's number plate etc.
A thin skeleton frame was made to support the main areas of the cake and then shaped around it. The Suzuki style logos were also placed in their respective places on the finished bike.
Please note decorations may vary slightly as each cake is baked individually.
Price for this cake (As in image) £175.00
Use the form below to order online, or if you prefer speak to or email us direct.