Christening Boots cake
SKU: [ chr-265 ]
Cake size used (10 inch, 8 inch and 6 inch) All other sizes are available.
Approx portions (95) standard portions.
Cake flavours and types (Full range is available).
Available in colours to suit.
Christening Boots cake. A lovely 3 tier christening cake for a baby boy (or girl with colour change) The cake is laid out on a 12 inch base board which has been decorated with a white fondant icing and decorated in a matching green ribbon.
The base tier of this baby boots cake is covered in a white icing and has a green ribbon crossing over both ways and is decorated with a bow on one side.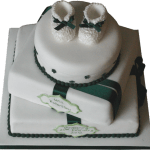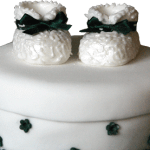 Around the base of this tier we have decorated it with green pearl icing. The middle tier is an 8 inch square that has been placed offset on the base tier. The decorative ribbon on this part of the christening cake is slightly different to the base tier. It has a single ribbon going across in one direction, whilst on opposite sides and opposite corners it has a double band ribbon.
The top tier of this beautiful Christening Boots cake is made with a 6 inch round cake. It is decorated with a box type lid on top to replicate a present box.  We did not use ribbons on this tier as it would have spoilt the overall look of the cake. Instead we opted for green iced beading and decorative green flowers. On top of the cake are a pair of hand made and shaped baby booties which have been given a wool effect look. Little ribbons have been carefully threaded through the booties and tied neatly in a bow at the front.
Please note decorations may vary slightly as each cake is baked individually.
Price for the Christening Boots cake (As in image) £150.00
Use the form below to order online, or if you prefer speak to or email us direct.