Fuschia Lily Wedding Cake
SKU: [ wed-267 ] Cake sizes (10 inch 8 inch and 6 inch) All other sizes are available to suit
Approx portions (100)
Full range of colours and flavours are available.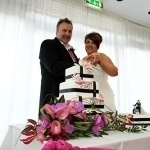 Like most of our wedding and celebration cakes, this cake is also available as a Gluten Free, Egg Free, and Vegetarian version. A beautiful hand decorated wedding cake with bespoke design on the front leading edges of the cake.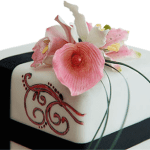 The designs can also be changed to suit your requirements. Each tier also has a ribbon (colour to suit) gong around the base and over the top.
Each tier of this unique Fuschia lily wedding cake has been decorated with hand made Fuschia Lilies. These liliesfinish off the look of the cake. The whole fuschia lily wedding cake is set onto a pre iced cake board which is also decorated with the same colour ribbon. Each of the layers can be made in either fruit, or sponge with flavours to suit.
We make custom designed lilies and other flowers for all of our wedding cakes. They can be either edible or non edible. Alternativly, if you prefer, we can work with your florist and use fresh flowers.
Please note decorations may vary slightly as each cake is baked individually.
Price for this cake (As in image) £340.00
Use the form below to order online, or if you prefer speak to or email us direct.