Skylander birthday cake
SKU: [ child-281 ]
Cake size used (As in picture) 12 inch
Approx portions (As in picture) 40 – 50
Skylander birthday cake. Children's favourite Skylander character cake (Gill Grunt). Carved from a 12 inch strawberry sponge, is one of the skylander giants characters.
Everything on the cake is edible. The cake was made to give a 3D effect and was shaped by hand from the cake.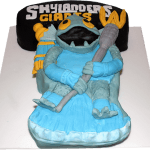 Once shaped, we had fun ensuring all the icing was coloured correctly to blend in over the character. skylander Gill Grunt is actually 10 inch's long and the headpiece above him was 2 inch's.
The skylander character is approx. 6 inch's wide and the Header displaying the logo is approx 8 inch's in width. So plenty of cake for everyone to enjoy. The web feet are also edible and made from fondant. The cake took over 10 hours to carve, shape and decorate.
There are many other skylander characters and all of them are available on request. A very popular following of the younger generation. These colourful characters make an excellent cake for a children's birthday both in 2D and 3D
An expert sniper, skylander Gill routinely picks off attackers from long range with the help of his Harpoon Gun, frequently taking the enemy by surprise.
An assortment of lethal water cannons and hoses complement his attack, and he also utilizes a handy JetPack to hover above the fray, providing cover for his fellow Skylanders.
Although his loyalty to the defense of the Skylands is absolute, Gill Grunt is always on the lookout for his true love, the enchanted mermaid who was kidnapped by pirates and remains missing. 
Please note decorations may vary slightly as each cake is baked individually.
Price for this cake (As in image) £85.00
Use the form below to order online, or if you prefer speak to or email us direct.