Princess Castle Cake
SKU: [ child-285 ] Cake sizes (As in picture) 8 inch, 6 inch and 4 inch
Approx portions (As in picture) 40 – 50
All flavours available
Many different colours available
All sizes available
Princess castle cake. A girls castle cake fit for a princess on her birthday. Everything on this cake is totally edible. A three tier castle birthday cake which is set on a 12-14 inch board.
The board has been decorated with organza ribbon and has been given a cobble stone effect in pink. Also around the birthday girls castle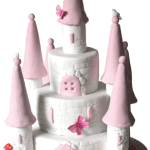 cake we have made and placed some colourful toadstools. Each tier of this princess castle cake can of course be different flavours of your choosing at no extra cost.
The icing on the towers and the castle itself has been given an old stone built effect. On the towers we have made some small hand decorated birds and placed little butterflies around the castle. We do not use plastic imitation spires.
Other designs for this cake are also available. If you have a particular type that you would like us to replicate for you, then please send us your images.
All of the spires and the towers are hand made and molded from icing. Large versions of this cake are also available on request. As with all of our cakes a lot of time and attention is paid to making each of them.
Every cake is made with fresh ingredients and baked then decorated less than 48 hours prior to delivery.
Please note decorations may vary slightly as each cake is baked individually.
Price for this cake (As in image) £99.00
Use the form below to order online, or if you prefer speak to or email us direct.