Saxaphone birthday cake
SKU: [ bir-337 ] Cake size used (9″)
Approx Portions (25 – 30)
Available in a range of sizes and flavours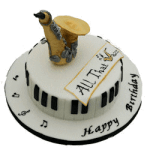 This particular saxaphone birthday cake is made with our very own recipe for charry and amaretto sponge. A beautiful fresh baked soft sponge with the taste of Almond and cherry.  If you love the taste of almond /marzipan, then our cherry and amaretto sponge is definitely the one for you.
Our customer informed us that the recipient had a passion and love for jazz music. Togehter with this they loved playing the saxophone and the piano. With this information in mind, we were asked to make this aprticular cake, to show the saxaphone, together with musical notes and a keybiard decoration.
Once the cake and board were covered in sugar paste,  we then decorated the outside of the cake with piano keys. We then added musical notes to the cake board.
The Saxophone was made in advance with rice crispy treats. Once this had set, it was then enrobed with fondant and left to air out.  We then airbrushed the saxaphone with gold, and, finally added the parts to replicate a close likeness to the to the sax .
Apart from this saxaphone birthday cake, we also replicate a range of other musical instruments. Whether you are looking for a low cost birthday cake as above, or, a large 3D replica of this or other musical instrument, then please get in touch. You can either call us direct, or use the contact form from the link above.
Please note decorations may vary slightly as each cake is baked individually.
Price for this cake (As in image) £65.00
Use the form below to order online, or if you prefer speak to or email us direct.