Fishermans Birthday Cake
SKU: [ bir-338 ] Cake sizes used (3 x 12″ & 14 x 6 inch)
Approx Portions (130+)
Available in a range of sizes and flavours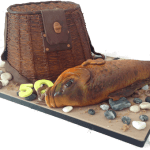 Extra large fishermans birthday cake. This particular cake is laid out on a 20 inch by 14 inch cake board. The cake board has been decorated with wood effect icing, together with hand iced pebbles. The complete cake was baked and decorated within 48 hours of delivery.
On this fishermans birthday cake, for the traditional fishermans basket, we used 3 full size 12 inch cakes and then carved them to shape. Our customer requested the flavour of the basket to be our very own fresh vanilla sponge. We have not used any hidden supports for any part of the cake. It stands proud somewhere between 8 and 9 inches in height and approx 12 inch diameter at the base.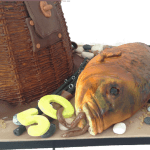 The decoration of the fishermans basket is all hand piped to give the rustic weaved effect. Straps and fasteners were then made and added. Laying inbetween the basket and the fish, is a 3 piece rod, together with the eyes on each part.
Traditionaly lemon is served with fish. With this in mind, we made the fish from our gorgeous Lemon and Coconut cake. (Very tasty). Once again the detailing of the fish is all completed by hand and then coloured to give it the finished look.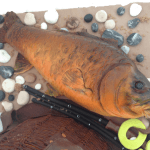 The fishermans birthday cake is just one of many custom fresh baked cakes that we provide for our customers. If you have a different idea of what you would like (
even a different style fish
) and you would like to know if it is possible, then please get in touch.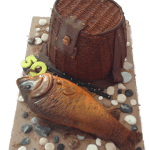 We are always open to challanges no matter what the size or design. As with all of our cakes, each one is indivdually fresh baked and hand made.
With a choice of over 35 different flavours, you can be sure to find one that you like. If you have a specific flavour you would like for your cake, and you do not see it on our flavour list, then please let us know. As we bake all of our cakes fresh the traditional way we source all our ingredients direct and do not use artificial flavours or essence in any of our work.
Please note decorations may vary slightly as each cake is baked individually.
Price for this cake (As in image) £175.00 (Smaller Sizes Available On Request)
Use the form below to order online, or if you prefer speak to or email us direct.