Arsenal Birthday Cake
SKU: [ bir-336 ] Cake size used (12″)
Approx Size (11″ x 9″)
Approx Portions (40)
Available in a range of sizes and flavours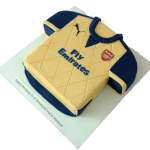 Our Arsenal birthday cake in yet another different club strip. We often get asked to replicate different football club strips. This particular cake was made for one of our many returning customers. Made from a 12inch cake. The cake was our very own Jamaican fruit cake recipe which always goes down well.
Unlike the traditional fruit cake which is phasing out slowly, the Jamaican fruit cake is proving to be a great substitute. We have seen orders for our recipe for this cake steadily increase for both celebrations and weddings.
The Arsenal birthday cake is a replica of the current 2015/16 strip, with a slight alteration to the colour at the customers request. We have done many cakes for Arsenal supporters, on of these was our well received replica of the Emirates Stadium, which we delivered to London.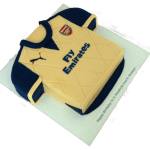 Laid out on a white iced cake board, the Arsenal birthday cake is hand carved and decorated. Like all cakes, this cake was prepared less than 48 hours of collection. We offer a full delivery service for all of our customers all over the U.K.
Over time we have traveled the length and breadth of England. During the course we have covered 1,000's of miles and to date we hold a 100% delivery record. When we deliver our cakes, we also set them up at your chosen venue for you. Order this cake online now or reserve your date with a deposit payment.
Please note decorations may vary slightly as each cake is baked individually.
Price for this cake (As in image) £75.00
Use the form below to order online, or if you prefer speak to or email us direct.