Knight (Mike The Knight )
SKU: [ child-277 ] Cake size used ( 4 x round cakes )
Approx Portions ( 25 – 35 )
Most flavours available
Different characters available
Knight (Mike the Knight ).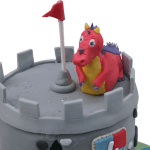 Children's novelty birthday cake. A Mike The Knight Cartoon Character. Everything except the flagpole is edible on this cake. This particular cake was made from our rich Belgian chocolate cake and coated with our special ganache recipe. The cake is set on an 8 inch round board which has trees and Mike The Knight on the base. We have also made some iced effect pebbles and built iced steps for the entrance into his castle.
The castle doors and shield have been made from icing and the shield shows the persons age. In the centre on the top we have placed the iced flag on a <b>(NONE EDIBLE)</b> flagpole.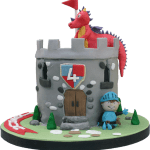 Sparkie the Dragon has been hand made and decorated and placed on the top of the castle with his tail draping down over the side.  An ideal birthday cake for the young persons birthday. A full range of sizes and mixed flavours is available for this cake. We can also make a bigger and more intricate version on request.
We also replicate many other children's cartoon character birthday cakes. These include Characters from Walt Disney and other famous cartoons. Attention is paid to detail to ensure the replica bespoke cake is at its best for you. If you would like us to design a unique bespoke birthday cake then please feel free to contact us direct.
This particular children's cake was delivered to one of our regular customers in Nottingham.
Please note decorations may vary slightly as each cake is baked individually.
Price for this cake (As in image) £75.00
Use the form below to order online, or if you prefer speak to or email us direct.