Quilted Wedding Cake
SKU: [ wed-310 ] Cake sizes (As in picture) 12 * a0 * 8 * 6 inch
Other sizes available
Full range of flavours available
Full range of colours available.
Approx servings (As in picture) (125)
This gorgeous quilted wedding cake in a gorgeous white fondant was delivered to the Nottingham Golf and Country Club.
The bride and groom requested this style of wedding cake for its elegance. Each tier of this cake is carefully decorated in a quilt effect. At the point of each of the quilt design it has hand piped small pearl effect.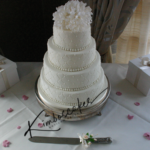 The base of each tier has white round iced decoration added to it. It is finished on top with a bump of silk white roses. Also provided with this cake were two smaller cakes that we boxed and tied in matching white ribbon. These smaller cakes were presented to the Bride and Grooms relatives, as in tradition in some cultures.
As with all of our cakes, we delivered and set this quilted wedding cake up on site in person and also provided a hand made iced flower spray for their cake knife. Like most of our cakes, this cake is available in a wide range of sizes and flavours. You can find a list of our unique fresh baked flavoursfrom the menu above
The Nottingham Country Club is set in beautiful countryside near Cotgrave in Nottingham and is an ideal venue for your wedding. More details on weddings for the Nottingham Country Club can be found by following the link below. If you do not see a flavour that you like or if you have a flavour you would like us to provide, then please feel free to ask us.
All of our cakes are baked fresh to order individually by hand and as such we can generally come up with a wider choice of flavours.
Please note decorations may vary slightly as each cake is baked individually.
Price for this cake (As in image) £375.00
Use the form below to order online, or if you prefer speak to or email us direct.