Hunter Wellington Wedding Cake
SKU: [ wed-309 ] Cake sizes used 9 * 12 inch
Cake size (Life size 5 Wellington)
Approx Servings (As in picture) 100+
Most cake flavours available.
Available in a range of sizes.
Another of our custom designed wedding cakes is this life size pair of Hunter wellington boots. Our Bride and Groom (Rachel and Andrew) requested us to make a replica of the Hunter wellington wedding cake
The two Hunter Wellington boots were made from 2 different cakes. One was our very own Carrot cake recipe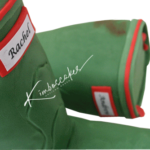 We only used one small support for this hunter wellington wedding cake to ensure the Bride and Groom and their guests had plenty to go around. The cake was delivered to their venue at Horsley Lodge, Derbyshire where the Grooms transport was a tractor (As seen on top of the cake).
The cake was set on a 14 inch iced cake board. The cake topper is not edible and was provided by the Bride and Groom.  After the wedding ceremony, the room was transformed during the photo shoot for the wedding breakfast.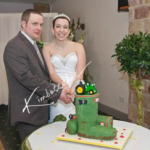 Horsley lodge is an ideal setting for weddings of up to approx 120 guests. Of course there is also their amazing Bridal accommodation. It has a beautiful drive passed its lovely water fountain feature, and is in the heart of the Derbyshire Countryside.
If like Rachel and Andrew along with other Bride's and Groom's, You have a specific type of custom, bespoke wedding cake, then please get in touch. Wherever you are in the UK or Wales we deliver and set up all of our wedding cakes in person at your chosen venue.
Please note decorations may vary slightly as each cake is baked individually.
Price for this huner wellington wedding cake (As in image) £250.00
Use the form below to order online, or if you prefer speak to or email us direct.