Christmas House Illuminated Cake
SKU: [ child-286 ] Cake size used (As in picture) 12 inch
Approx portions 100 – 110
Various sizes and designs available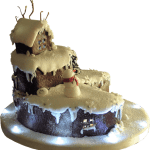 Christmas House Illuminated Cake. A bespoke design Illuminated Christmas house cake made from our own recipe of a light fruit cake. Set on a 14 inch round board which is illuminated around the outside.
The board is pre-iced and edible snow is sprinkled all on top of it. Everything on this cake (except for the lights) is totally edible.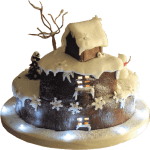 The cake is carved and shaped into a three story house. At the front and around the back of the cake on each level, we have carved out windows and doors.
Inside the windows of this beautiful Christmas house we have placed little household items and then created a window effect in front of it. The inside of each of the rooms has also been decorated with a bright coloured icing to enhance the effect of the lights which have all been placed in prominent areas.
The lights are operated by battery and the switch is accessible from the back of the cake.
Snowballs and other snow items have been placed around the base of the house. The roof has also been covered in white fondant and snow effect icing on top of that. The snow is shown to be dripping into icicles around the house. Snowflakes have also been placed in various areas around the cake.
The snowman, Christmas tree and oak tree on the roof of the cake are also all edible.
If you would like a bespoke design Christmas cake made specifically to your requirements, or a lrger version of this Christmas house, then please contact me directly. All orders for Christmas fruit cakes must be with us by October at the latest.
Please note decorations may vary slightly as each cake is baked individually.
Price for this cake (As in image) £99.00
Use the form below to order online, or if you prefer speak to or email us direct.