Pirate Ship 3D Birthday Cake
SKU: [ child-221 ] Approx Size (12″ x 6″ x 6″)
Approx Portions (30)
Also available in other sizes and styles.
A hand carved pirate ship cake.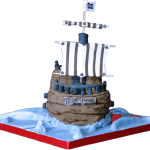 Everything except for the mast on this cake is completely edible. Set on a cake board which has been iced and given a sea effect, this pirate ship cake will light up the eyes of any child on their birthday.
This cake was made from our own recipe for Vanilla Sponge where we use only the finest real vanilla pods for flavouring. The centre of the cake has a lovely strawberry conserve and buttercream filling. The butter cream is made with real butter on the same day as it is decorated to ensure complete freshness.
Every part of this cake is carved and made by hand, right down to the masts, sails and railings. Once carved and shaped, the whole cake is iced with a soft fondant and then hand painted and sculptured to give the wood effect of an old Pirate Ship.
The sails are hand made from flower paste and then decorated before they are attached to the masts. The cannons and railings are made from fondant.
This cake is available in a wide range of sizes, colours and flavours. We will also make hand make models of little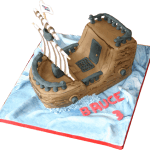 pirates on the ship for you. All you need do is send us some details to work with. Colour of hair for example.
Delivery for this 3D upright Pirate Ship Cake is FREE within the immediate area of Derby and Nottingham. We will deliver all of our cakes in person to ensure safe delivery anywhere in the UK.
A beautiful suprise birthday cake for any child with a sense of adventure. Choose from our many flavours of cake. A list of the most popular ones may be found on the menu above.  The pirate ship cake is also available in a range of sizes.
For more information on this cake please use our contact form opposite or fill in the comments section at the base of this page.
Please note decorations may vary slightly as each cake is baked individually.
Price for this cake (As in image) £85.00
Use the form below to order online, or if you prefer speak to or email us direct.