Ping Golf Bag 3D Cake
SKU: [ bir-220 ] Approx Size (10 x 6 x 6 inch)
Approx Portions (40+)
Also available in other sizes and styles.
This 3D golf bag cake will be welcomed by any golf enthusiast. Standing approx 10″ tall 6″ wide and approx depth of 6″. An upright 3D cake of the popular Ping Style golf bag.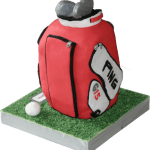 Suitable as a birthday, celebration, novelty cake for all golf enthusiasts, it is mae with our extremely popular soft moist Belgian Chocolate cake. This Golf bag cake is also available in a full range of flavours and sizes. You can see a full list of flavours from the above menu. This cake is also available ( Gluten Free, Egg Free, Dairy/Gluten-free and for Diabetics )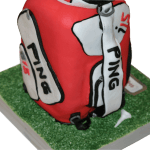 Completely styled in 3D it stands proud on a 12″ cake board. The decoration on the cake board is also edible. The board itself is carefully decorated with grass effect and displays a hand made golf ball and tee made from fondant.
Particular attention is paid to the detail and markings on this Golf Bag to give it that distinctive Ping Golf Bag look and style.
Chose between Clubs to display (Iron, Putter, or Wood) or why not request one of each?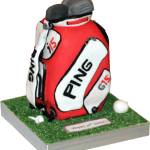 The golf bag is also available in a wide range of colours to suit. Why not send us a picture of the golf bag you wish replicate as a cake and we will replicate it for you. We deliver all of our cakes in person either direct to your home or your chosen venue.
This golf bag cake is available in a variety of sizes and can also be made taller if you wish.
Delivery to the Nottingham and Derby immediate area is FREE and a nominal charge to cover fuel costs is made for delivery anywhere else in the UK. Personalise this cake with any message of your choice. There is no extra charges made for change of colour or message on this cake.
If you require a larger version then please contact us direct by either using the contact form opposite or simply fill in the comments section at the bottom of this page.
Please note decorations may vary slightly as each cake is baked individually.
Price for this cake (As in image) £99.00
Use the form below to order online, or if you prefer speak to or email us direct.