Honeymoon Suitcase Cake
SKU: [ wed-222 ] Cake sizes (10 x 8, 8 x 6, 6 x 4)
Approx Portions (100)
Avaliable in a range of sizes and colours, toppers can also be changed
This novelty honeymoon suitcase wedding cake certainly stands out with its cake topper. The topper made of 2 hand made iced elephants for our fun loving couple. Hand made (no moulds) and decorated to their instructions they look cute on the top of the suitcase wedding cake.
Each tier is made to look like a suitcase. Covered in fondant and then hand decorated with straps, buckles, catch's and travel tags.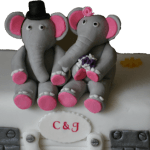 Each of the 2 bottom suitcase's are decorated with small flowers and hand made iced buckles on each strap. The top tier has a tag with the couples initials on it. This cake is available in all sizes, colours and flavours to match your wedding / honeymoon theme.
Choose from our own Passion fruit sponge, using only real fruit for flavours, or perhaps our rich, soft, moist chocolate sponge which is enrobed with our very own luscious chocolate ganache. All of our chocolate recipes (White, milk or dark) are made with the finest Belgian curvature chocolate. Let us know what topper you would like on this suitcase wedding cake and we will hand make it for you.
If your venue is in the Derby or Nottingham area then the price includes everything from delivery and set up to table decoration and hand made iced flower spray for the cake knife. (No hidden costs) Outside of these areas will incur a nominal delivery charge. All of our wedding cakes are baked, carved and decorated individually to order no more than 48 hours prior to your big day (With the exception of fruit cake where we like to prepare at least a minimum of 6 weeks in advance)
For more information on this honeymoon suitcase wedding cake, please do not hesitate to contact us direct.
Please note decorations may vary slightly as each cake is baked individually.
Price for this cake (As in image) £370.00
Use the form below to order online, or if you prefer speak to or email us direct.