Iced bow and drapes wedding cake
SKU: [ wed-237 ] Cake size used (12? FRUIT)
Approx portions (120)
Available in a range of colours, flavours and sizes to suit.
Iced bows and drapes. This lovely single tier iced bow and drape wedding cake is an ideal size for that Smaller, more Personal wedding. The cake is laid onto 2 round cake boards which are also dressed with icing and ribbons. A small bow on the base board is decorated with a diamante.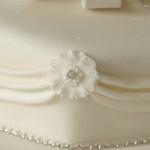 A hexagon cake draped in soft ivory fondant. Around the side of the cake we have dressed it with a hanging drape effect and added petals with a diamante in the middle of each drape where they meet. This gives the side of the cake a very elegant look about it. Around the base of the cake is a diamante effect chain.
The top of the cake has been decorated with individual bow loops which are clustered together. Also in-between these loops we have added the odd diamante pin to tie in with the side of the cake.
This particular cake was requested in our beautiful soft English fruit cake, for our couple who went to "Gretna Green" to tie the note. It is available in a variety of shapes, sizes, colours and flavours. (Why not try our unique Jamaican Fruit Cake)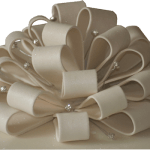 Delivery within the immediate area of Derby and Nottingham is FREE. Other areas will incur a small delivery charge. All of our wedding cakes are set up by us in person at your venue and include, a cake knife flower spray (to match your theme) and some cake table decoration to blend in with the cake. This is all included in the price of the cake (Except for delivery charge where applicable).
If you would like more information on any of our wedding cakes then please do not hesitate to contact me direct, either by phone or by using the contact link on the top menu.
Please note decorations may vary slightly as each cake is baked individually.
Price for this cake (As in image) £110.00
Use the form below to order online, or if you prefer speak to or email us direct.