Pink Shabby Chic Wedding Cake
SKU: [ wed-196 ] Cake sizes used (As In Picture) 10 inch, 8 inch and 6 inch
Approx portions (As in picture) 90
All flavours and types available
This vintage pink shabby chic wedding cake consisted of the base tier. This is our own recipe for a moist fruit cake and it is enrobed with marzipan, before being coated with ivory sugar paste. For the middle tier we provided our lush dark Belgian chocolate and orange swirl sponge with a filling of Belgian chocolate butter cream. Finally for the top tier we supplied our popular cherry and amaretto sponge together with a filling of Amaretto butter cream.
As with all of our cake recipe's, because we bake every cake the traditional way from scratch, we ensure we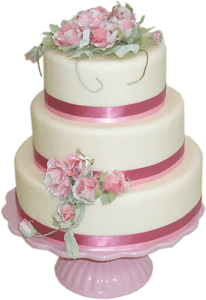 incorporate real fruit in all of our cakes and flavours. To give this elegant cake its shabby chic look, each tier is decorated with a dusky pink ribbon and a contrasting light pink ribbon around each cake base. Roses are then added to compliment the theme.
Have a different colour scheme that you would like? Please feel free to contact us direct to discuss your individual requirements. We always to our very best to accommodate our couples styling and budget for each individual cake. Choose from our many types of cake flavours. Your personal choice of cake flavours is included in the price. Once your deposit has been paid, all our prices that we quote or show are fixed for 18 months. You can either book this pink shabby chic wedding cake direct online or by contacting us. All online bookings are able to state their colour theme and specific cake types like allergens, or sponge type.
Please note that the cake stand Is Not included in the price below. A deposit is required for the stand.
Price of this cake (As in picture) £ 250.00
Use the form below to order online, or if you prefer speak to or email us direct.

Getting married in Derbyshire? Have a look at The Priest House Hotel here