Mint Teardrop Wedding Cake
SKU: [ wed-197 ] Cake sizes used (As In Picture) 13 inch 10 inch, 8 inch and 6 inch
Approx portions (As in picture) Including 4 cutting cakes 500
All flavours and types available
Our mint teardrop wedding cake.
Made up of 4 seperate tiers, the 13 inch base cake is our rich moist fruit cake. For the other 3 tiers, our bride and groom selected our very own recipe for Belgian chocolate sponge. Each of these three sponges had our rich chocolate filling and topped off with a coating of high quality Belgian chocolate ganache.
This very detailed mint teardrop cake is decorated with a fondant frill to both the bottom and top tiers. To finish the decorative look on these tiers we added hand piped detail just above the frills.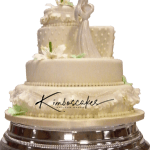 The second tier is decorated with a piped pearl detail all around the base. Finally thethird tier is a hand carved a tear drop shape cake (we do not use pre-shaped tins). It is then decorated with piped pearl detail and edged with beading to the base of the cake.
Mint coloured sugar flowers and butterflies were added to this fabulous cake together with a Circle of Love topper to complete this unique design.
The mint teardrop cake was delivered in person to the bride's venue in London, together with an extra 4 cutting cakes to cater for over 500 guests. Whatever the size of your wedding party, we would be happy to provide the ideal cake for you. Be it for 50 people or 750 or more. Each cake is always baked individually, fresh to order.
Please note that the cutting cakes are Not included in the price below.
Price of this cake (As in picture) £ 425.00
Use the form below to order online, or if you prefer speak to or email us direct.

Getting married in London? Have a look at The Langham here