Loving Couple Wedding Cake Variation
SKU: [ wed-195 ] Cake sizes used (As In Picture) 12 inch, 8 inch and 6 inch
Approx portions (As in picture) 90+
All flavours and types available
One of our many bespoke design wedding cakes is this variation on our Loving couple.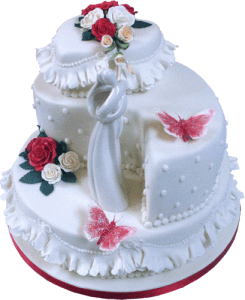 Check our other versions of this gorgeous wedding cake. Set on a 14 inch iced cake board which is dressed with matching red ribbon.
This beautiful unique wedding cake was delivered to our couple in Ramsgate, Kent. The base tier is dressed with iced frills, together with hand piped dots above the frills and hand iced little bows.
The middle tier is hand carved into the shape of a tear drop and is also decorated by with a hand piped pearl effect. The base of the middle tier on this wedding cake is dressed with iced beads and has been decorated with roses and butterflies.
The top tier is carved into the shape of a heart and the decoration mimics the same as the base tier. To finish the top tier off we have mad a small display of hand iced roses in cream and red. At the front of the middle tier a Circle Of Love ornament has been carefully placed.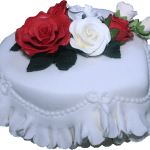 This beautiful, elegant wedding cake is also available in Egg Free and Gluten Free as our most of our fresh baked wedding and celebration cakes together with a wide range of different flavours and colours. Choose your preferred cake style on our order form and not any allergens to. Feel free to change the style of decoration to your chosen one. We always do our best to accommodate our happy couple. If you like our elegant loving couple wedding cake, you can order securely online.
Please note that the circle of love ornament Is Not included in the price below.
Price of this cake (As in picture) £ 345.00
Use the form below to order online, or if you prefer speak to or email us direct.
Getting married in Canterbury? Have a look at Preston Court here