Baby Boy Blue Christening Cake
SKU: [ chr-219 ] Cake size 10 inch
Approx protions (40+)
Available in other sizes and flavours & colours
This baby boy christening cake is made with our gorgeous rich Belgian Chocolate cake. Using only the best and finest Belgian Curvature Chocolate.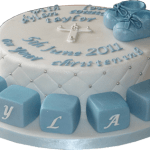 The baby boy christening cake is placed on a pre iced cake board which has a beautiful light blue ribbon around it. The blocks with the child's name on are all hand made from soft fondant with the letters attached to the sides.
The cake is coated in a luscious rich chocolate ganache and has a smooth chocolate butter cream filling. All of our butter cream fillings are made with real butter and is always made fresh for each cake on the day. The baby boy christening cake itself was baked and decorated less than 24 hours prior to the required day.
Around the side of the cake we have indented it with a crisscross pattern and used edible dragee's on each corner of the pattern on the side of the cake. The baby christening boots were also shaped and made by hand (No moulds were used on our decorations) .
This cake is available in a full range of sizes and colours to suit the occasion. A gluten and egg free version of this christening cake is also available. Delivery within Nottingham and Derby is FREE. There is a small delivery charge for anywhere else in the UK
As all of our cakes, each cake is baked fresh to order.
Please note decorations may vary slightly as each cake is baked individually.
Price for this cake (As in image) £75.00
Use the form below to order online, or if you prefer speak to or email us direct.