Penguin Birthday Cake 3D
SKU: [ child-327 ] Cake size ( approx. 7 inches tall )
Approx. portions (30-35)
Penguin Birthday cake made for a little girl who absolutely adores penguin. On the initial enquiry for this cake, the customer was given the choice of 3D or 2D. You can see which they preferred.
This particular cake was made using three 9 x 6 inch cakes. The choice of flavour for this cake was our Madagascan vanilla sponge. The sponge had a strawberry conserve and vanilla buttercream filling.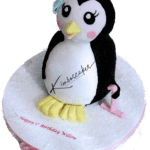 The penguin birthday cake was carved to shape using a picture which are customer had provided. It is set on a bard which has been given a snow effect coating and finished off with a pink ribbon around it. Everything on this cake is totally edible, including the hand made bow on the penguin's head.
As with all of our cakes, the penguin birthday cake is fresh baked using only fresh ingredients. It is then carved to shape by hand. At kimboscakes, all of our work is done by eye and carved to shape. We do not use pre shaped cake tines.
All our cakes are baked to order the traditional way. We use only real fruit and fresh ingredients to achieve the flavours required. This is great for children's birthday cakes, as there are no hidden e numbers or sugar additives.
To complete the look of this penguin birthday cake, edible crystals and glitter were sprinkled on the cake board to finish off the fresh snow scene.
As with all of our cakes, this cake is available in a range of sizes and flavours. For a full list of our cake flavours and styles please see the menu at the top of the page. Some 3D, sculptured cakes are restricted on the types of cake that we can use.
Price for this cake (As in image & description) £70.00
Please note decorations may vary slightly as each cake is baked individually.
Use the form below to order online, or if you prefer speak to or email us direct.