Mini Cooper Cake
SKU: [ bir-326 ] Cake size ( 11 inch X 6 inch )
Approx. portions (45+)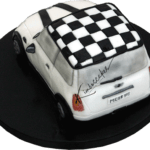 One of Our returning clients enquired if it would be possible to replicate her daughter's birthday present, a Mini Cooper.  This was to be made with our Jamaican style fruit cake. We were more than happy to oblige. Once the caked was baked, it was carefully carved and shaped to replicate her white Mini Cooper.
We then proceeded to decorate as per images that were provided to us. These included a black chequered roof and black stripes on the bonnet.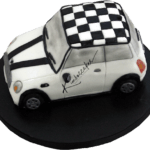 An 11 inch by 6 inch fruit cake was used to cater for our client's guest of 45. Ensuring that when we enrobed the carved fruit cake with marzipan, the design and shape didn't go out of scale.
Just as general information, with a labour of love, this fruit cake took 5 hours to mix and then bake alone. It then took another 7 hours of carving, coating and decorating. Just seeing our customers face light up when they sew the cake was " priceless"
We can also provide this cake in variety of flavours other than Jamaican fruit. Although we do get a wide variety of vehicle cakes, this one has to be the most eye catching design that anyone celebrating would want. Along the way, we have made Ferrari, Bughatii, Vauxhall along with a range of other cars and 4 x 4 cakes. If you have a specific car (or lorry) that you would like making into a cake for a birthday surprise, then please let us know. We will be more than happy to accommodate.
Price for this cake (As in image & description) £85.00
Please note decorations may vary slightly as each cake is baked individually.
Use the form below to order online, or if you prefer speak to or email us direct.