Ivory Mocha multi tier wedding cake
SKU: [ wed-328 ] Cake sizes used (4 x 8 inch hearts, 4 x 6 inch round, 1 x 8 inch separator, 2 x 10 inch round, 1 x 8 inch round, 1 x 6 inch birdcage)
Ivory mocha multi tier wedding cake. Height and status without the price tag that goes with it. A mixture of different cakes mixed with false tiers. Our bride and groom had been quoted in the region of £1100 for the same arrangement of false and real tiers as we provided. Our price is shown below. Needless to say our bride and groom were over the phone when they realised we could replicate their dream cake for almost half the price.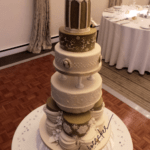 If you are looking for a wedding cake that gives height with an opulent look then this ivory mocha multi tier wedding cake is for you. The flavours of this cake ranged from Belgian chocolate orange, to traditional fruit, strawberry sponge, coffee and walnut and finally Madagascan vanilla sponge.
It goes without saying that you can mix and match any flavours you wish. Choose from our extensive flavour list (from the menu above), or, if you have a flavour that you do not see there, let us know and we will do it for you.
Each heart base tier cake has an alternating design of fondant drapes with a cameo brooch in the centre. Other tiers are a hand piped brush embroidery design. To add elegance to the base board we added a combination of calla lily, roses and blossom flowers to infill in between each tier.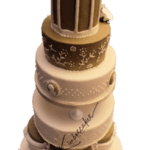 Decoration for the second row of four 6" round cakes were enrobed with a mocha coloured icing that had alternating flower appliques and also decorated with royal icing piping. For the remaining tiers, fondant drapes were added with an edible pearl brooch in the centre.
For the Third layer a false cake separator was used as a support for the tiers above, which, also adds height to the cake. The fourth layer consist of a 10inch chocolate fudge sponge decorated with hand piping and brush embroidery flowers.
The fifth layer was a fondant covered false tier. This was also hand piped with pearl dots and vintage style edible brooches. The sixth layer was a false tier with a base colour of mocha icing with ivory piping details
Finally, for the top tier, we created a shabby chic style bird cage. This was decorated with roses to compliment the overall look of the design. This cake was delivered and set up for our bride and groom to, Stancliffe Hall, near Matlock, Derbyshire

Our handmade silk pleated cake stand are made to order and sold or hired separately
Price for this cake (As in image & description) £595.00
Please note decorations may vary slightly as each cake is baked individually.
Use the form below to order online, or if you prefer speak to or email us direct.