Pearl Anniversary Cake
SKU: [ ani-212 ] Cake size (10 inch approx)
Approx Portions (40+)
Available in a wide range of colours and themes to suit.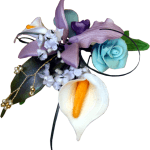 This gorgeous Pearl Anniversary cake is available in any flavour or type of sponge / fruit cake. It can also be made in most colours to suit the theme of any wedding anniversary. Each Anniversary cake is baked and made individually by hand to order no more than 48 hours prior to the required day. Made using only the finest and freshest ingredients, it is sure to please most people no matter what flavour or type of cake.
The top of this Pearl Anniversary cake has been decorated with individual hand made swans which sit as a pair on the top of the cake. We have also included a pair of wedding bands together with an inscription to state the celebration of the Anniversary.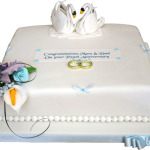 To the left of the cake we have placed a delicate hand made iced flower arrangement. The flowers can be made in any style and most colours.  The base of this cake was decorated with hand made iced white pearls. Everything on this cake is edible. You may also choose to save the swans and / or the flowers to have as a keepsake. Kept in a dry place they will keep for years.
Choose to have this cake in our own special cherry and amaretto flavour, vanilla sponge or perhaps our delicate soft Belgian chocolate recipe. This Pearl Anniversary Cake was delivered to our customer in person by us to Liverpool. If you have a specific design or type of cake that you would prefer, then please feel free to get in touch. We work with all of our customers. Doing our best to stay within budget, but, at the same time, ensuring we deliver the style of cake you would like.
Price for this cake (As in image) £65.00
Other sizes available on request
Use the form below to order online, or if you prefer speak to or email us direct.