Land Rover Discovery
SKU: [ bir-211 ] Cake size (7x4x5 inch approx)
Approx Portions (20+)
Available in a wide range of colours and themes to suit.
Made with our own fresh baked vanilla sponge, using real vanilla pods for flavouring.  The cake is fresh baked to order and then carved and shaped. Iced in almost any colour you require. This land rover 4X4 cake is then decorated in the same style as your own and we do our best to replicate whatever you have on your own land rover discovery.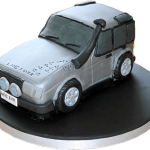 Everything on the discovery 4×4 cake is edible, right down to the bumpers and tow-bar. The cake is completely shaped and made by hand to your specifications. We only use the finest and freshest ingredients in all of our cakes. Do you know someone who has a 4 x 4? Maybe they have a different MPV that is their pride and joy. Send us the images and we will replicate the vehicle for you.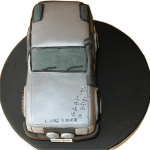 The wheels are made out of our own secret recipe. The tyres and tread are also made to replicate your tyres. So even if you have mud tyres on your discovery and have had a lift kit fitted we will design the 4×4 to match your own.
We will deliver to anywhere in the UK for a small delivery charge. All of our cakes are delivered in person by us to ensure safe delivery.
To order this 4×4 Landrover Discovery cake please fill in the details below, ensure you put any extra information in the box provided. We will contact you direct by return for any pictures that you have.
Price for this cake (As in image) £65.00
Other sizes available on request
Use the form below to order online, or if you prefer speak to or email us direct.