Boys Castle Birthday Cake
SKU: [ child-213 ] Cake sizes (8 inch, 6 inch & 4 inch approx)
Approx Portions (45-50)
Available in a wide range of themes and flavours to suit.
A hand made and designed boys castle cake that can be made and adjusted to suit any size, shape or style. This amazing birthday, celebration castle cake can be reduced or increased in size to suit any child's or adults birthday / celebration.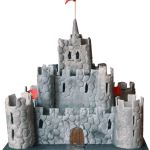 This particular cake was delivered to one of our customers in Spondon, Derbyshire for their child's birthday. The sponge on this particular cake was our own absolutely gorgeous soft moist Belgian chocolate sponge. Our chocolate sponges are made using only the finest Belgian curvature chocolate. We do not use any flavourings or cocoa powder in any of our cakes.
Every piece of this boys castle birthday, celebration cake is made shaped and sculpted by hand. There are no cheap plastic replica parts used anywhere in our cakes. they are all individually hand made to order. Each and every wall and turret has been made individually to fit this cake and they can be made larger or smaller to suit any size.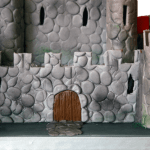 Every part of the walls and turrets of this cake have been given an authentic old stone look and then coloured to give it the well weathered effect. This party, celebration / birthday cake is available in all of our cake flavours. It can also be coloured and sized to suit any celebration or occasion, including fairy tail weddings.
The inside top of each layer has been covered in a gravel effect edible sugar icing and coloured to match the look and theme of the cake. We also coloured the icing on the board to match the castle.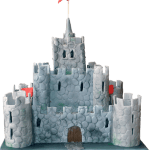 Every window in this boys castle cake has been cut out by hand and iced in a dark coloured icing to give the effect of looking into the dark turrets. We also made the drawbridge to this castle cake by hand and gave it an old wooden look and feel.
The castle cake is based on 3 tiers but this can be increased to suit. 4 (castle / turrets) are placed in the corner of the first 2 tiers, and the central tower is placed on top of the top tier.
You may also have a choice of any flavour for each tier or you can even mix the flavour choice at no extra cost.  Like all of our cakes, this cake is also made individual to order and is made and prepared 48 hours prior to the required date.
Delivery to the local area is free, anywhere else in the UK will incur a delivery charge. (our delivery charges only cover the cost of fuel. We do not charge for our time taken to deliver and set up)
Price for this cake (As in image) £125.00
Other sizes available on request
Use the form below to order online, or if you prefer speak to or email us direct.