Novelty Toilet
SKU: [ bir-218 ] Cake size 7 x 6 x 6 inches
Approx protions (15 – 20)
Available in other sizes and flavours
A cake with a definite difference has got to be the toilet cake. This cake was made as a specific request from one of our customers. The novelty toilet cake shown here is what it looked like before we added all the extra's that were requested. Here at kimboscakes, we do our best to provide sculptured and 3D cakes of all shapes and sizes.
We have opted not to show the completed version on this page.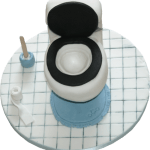 All the extra bits and colouring were also made from edible cake and icing. We have opted not to show the finished version as it would possibly be unsuitable and offend. Lets just say it was complete as per our customers request, so there were a few extra details on there.
This particular cake was made from our vanilla sponge and every part of the toilet cake has been carved and shaped by hand. Unfortunately we cannot make this cake out of our chocolate fudge, or our coffee and walnut cake. The board was given a bathroom tile effect look to match in with the setting of the cake. The toilet roll and toilet brush set are hand made from fondant icing. If you have an idea of a surprise novelty 3D cake that you would like us to make, please feel free to contact us. You may use our contact form and add up to 4 images, or, call us direct.
This novelty toilet cake is available on a full range of flavours (cake flavours 🙂 )
Please note decorations may vary slightly as each cake is baked individually.
Price for this cake (As in image) £75.00
Use the form below to order online, or if you prefer speak to or email us direct.