Strawberry Cigarello Cake
SKU: [ bir-217 ] Cake size 10″
Approx protions (30-35)
Available in other sizes and flavours
A gorgeous strawberry cigarello celebration cake for that special occasion, Valentines Day, Mothers day, Birthday. This beautiful heart shaped cake is available in a full range of flavours. This particular cake was made with our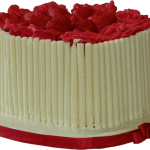 beautiful recipe for Strawberry Sponge. Using only fresh strawberries for flavouring and also in the middle with a light buttercream.
This particular strawberry cigarello  cake was made for a for a customer who needed everything to be animal fat free. Needless to say we were happy to oblige. You can view a list of our dietary requirements above from the allergens menu. You can also state them on the order form.
Set out on an iced heart shaped board, this lovely cake was decorated with white chocolate cigarello's around the outside.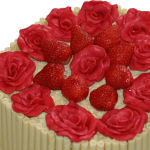 On the top of the cake we sprinkled more white chocolate in tiny pieces and then covered it with real fresh strawberries and individual hand made iced roses for decoration.
The cake was baked, shaped and decorated within 24 hours of delivery and the strawberries were the last things to go on less than an hour before it was due to be delivered to ensure complete freshness.
Every one of our cakes are hand made and shaped, and baked using only the finest fresh ingredients. There are no artificial flavourings or sweeteners used in any of our unique recipes. There is no delivery charge to Nottingham or Derby. We deliver all of our cakes in person anywhere in the UK and we only charge a nominal fee to cover fuel costs.
Please note decorations may vary slightly as each cake is baked individually.
Price for this cake (As in image) £85.00
Use the form below to order online, or if you prefer speak to or email us direct.