Next Sale Bag Birthday Cake
SKU: [ BIR-198 ] Cake sizes (As in image) 2 X 12 inch cakes
Approx Portions (120+)
Cake flavours (Most flavours available)
For the shopaholic friend or girlfriend. We all love to shop at Next. This next sale bag novelty birthday cake is made up of 2 x 12 inch cakes and given an above average height. One of the cakes is our fresh strawberry Victoria sponge. This is baked with real strawberries inside to give it that authentic strawberry taste. The middle of the cake is made up of fresh sliced strawberries and a buttercream filling.
The second cake is our fresh lemon sponge cake. Again, using fresh lemons only for that authentic flavour inside the sponge. The cake filling comprises of our white Belgian chocolate ganache filling with fresh lemon. The cake was designed to look like a NEXT clothing sale carrier bag, complete with handles and eyelets and the NEXT logo on the bag.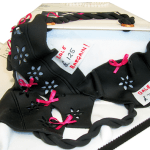 Our customer who requested the next sale bag cake is a renowned shopaholic, so in order to make this cake look extra special we included the following novelty shopping items to the cake. An extortionate edible printed sale receipt; An edible pearl necklace; Edible thong together with an edible lace camisole top.
The board was decorated with a few glitter love hearts and the table was also decorated with edible flower petals. If you are a renowned shopaholic, or just a fashion follower, let us know. We will work with you to come up with the ideal cake that portrays your fashion style. Whether it is clothes shoes or something really outrageous.
Price of this cake (As in image) £125.00
Use the form below to order online, or if you prefer speak to or email us direct.