Classic Chanel Handbag
SKU: [ BIR-199 ] Cake sizes (As in image) 10 inch x 5 inch
Approx Portions (35+)
Cake flavours (Most flavours available)
This gorgeous classic Chanel style bag with flap is made with a beautiful moist vanilla sponge. The sponge is made with all fresh ingredients, including fresh vanilla pods, as our all our cakes. Folded in half, the sponge is hand carved to shape to replicate the classic look of the Chanel style bag.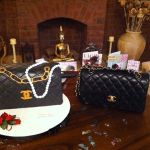 The filling of this particular cake is made up of our own soft fresh vanilla butter cream, together with our smooth strawberry conserve.
Covered in black fondant the classic chanel cake is than hand designed to give the distinctive stich look of the bag. The handle, buckle, clasp and Chanel style logo are also hand-made, cut and placed onto the bag. Each of these additions is then painted individually with food colours to give the final gold look.
We also made the iced pearl necklace and draped it over the bag to finish off. Laid on the board is a small bouquet of red roses. Each of the iced flowers is also hand-made.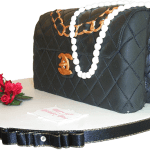 Everything on the cake that you see is edible. The cake is available in a wide range of colours and flavours to suit most tastes.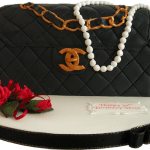 All of our cakes are hand made using only the finest fresh ingredients. Delivery to Nottingham and Derby area is free, and to other areas there is a small delivery charge. We also deliver all of our cakes in person to your house or venue. If you have a specific style of handbag that you would like replicating into a cake, then let us know.
Price of this cake (As in image) £75.00
Use the form below to order online, or if you prefer speak to or email us direct.