Classic Steam Train Cake
SKU: [ BIR-101 ] Cake sizes (As in image) 2 cakes. 12 inch X 5 inch
Approx Portions (45+)
Cake flavours (Most flavours available)
The whole cake is laid out on an iced cake board. The base layer has been made and decorated with a varnished wood effect, and a gold plaque is placed on the side of the base cake with your chosen inscription.
The train is hand carved and shaped to replicate a steam locomotive and then hand decorated. Everything on this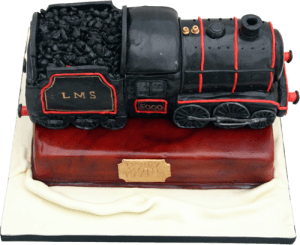 cake is totally edible. Our customer sent us images of this classic steam train engine that they wanted to replicate. It was a particular type and model of a steam locomotive that the recipient used to drive back in the days when steam locomotives where popular.
The cake is available in a wide range of flavours. As we bake every cake traditionally and individually to order, we can offer a whole range of cake types and flavours.
To see our list of most popular flavours, please select "Flavours" from the menu at the top of the page. The coal in the coal carriage is made up of little pieces of icing. The base cake has been made up of four colours which we have put together in a mottled design to give the leather look effect. Are you a train spotter? Do you have your own locomotive that you would like replicating into a cake? Fill in our contact form where you are able to upload at least 4 images. We will reply back to you to discuss the design in greater detail. Diesel locomotive or classic steam train we would like to hear from you. If you have a known allergy or specific cake type, then please let us know on the order form. We will always do our best to accommodate allergen suffers when creating our cakes.
Classic steam train price (As in image) £95.00
Use the form below to order online, or if you prefer speak to or email us direct.