Calla Lily Wedding Cake
SKU: [ wed-210 ] Cake sizes (12″, 10″, 8″ and 6″)
Approx Portions (130-150)
Available in a range of colours and flowers to suit.
A simple but elegantly designed calla lily wedding cake. This gorgeous wedding cake is made up of four tiers. Each tier is carefully iced in white fondant and decorated with a simple but sharp looking red ribbon around the base of each tier. The calla lilies for this elegant wedding cake are made by hand individually and laid gently around the sides to decorate the tiers of the cake. Two separate calla lilies are carefully placed on the top tier to finish the look of the cake.
This cake was baked fresh to order and decorated (as all of our cakes are), 48 hours before the wedding to ensure complete freshness.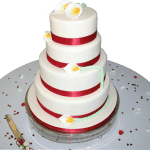 The flavours of the cake were as follows. 12″ vanilla sponge with buttercream and conserve filling. The vanilla sponge was flavoured with real vanilla pods (we do not use vanilla essence), and all our conserves are made from real fruit. For the 10″ tier our own unique chocolate fudge cake. This cake is made with real Belgian curvature chocolate. Separated by a rich fresh made chocolate  butter icing, and then coated in our own recipe of chocolate ganache. The 8″ tier was our own unique fruit cake recipe. This cake is made at least 12 weeks in advance and given a drink every week while it is maturing. A beautiful moist and soft fruit cake.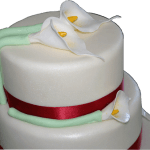 The top tier is our very own cherry and amaretto flavoured sponge. Draped in marzipan before it is iced to enhance the flavour of the amaretto.  Placed on a silver cake stand in the centre of the table, we then dressed around the cake with hand iced petals.
The cake knife for this calla lily wedding cake in the image is also supplied by us (not included in the price) and this is decorated with a hand iced flower spray to give the whole set up its finishing touch.
The calla lily cake was delivered and set up by us (as are all of our cakes) to Somerford Hall in Staffordshire.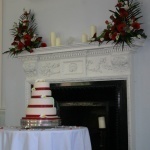 Available in a wide range of colours to suit your wedding theme, this cake is also available in all of our cake flavours and recipes. Delivery to the Nottingham and Derby area is FREE and a small delivery charge will apply to anywhere else in the UK. All of our cakes are delivered in person by ourselves to your chosen venue. Our price includes the table decorations, hand iced flower spray for the cake knife and (if in Nottingham / Derby) delivery is also included.
Price for this 4 tier wedding cake (As in image) £390.00
Other sizes available on request
Use the form below to order online, or if you prefer speak to or email us direct.