Kookaburra Bag Birthday cake
SKU: [ bir-291 ]
Cake size used for this cake 10 inch
Approx portions (Including ball) 35 – 40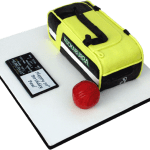 Just to make a change from Football, here is a Kookaburra bag borthday cake set on a 14 x 12 inch board. Delivered to Quarndon in Derbyshire for a 50th birthday party.
For this novelty kookaburra bag birthday cake we used a 10 inch cake. Decorated in colours to replicate the Kookaburra pro 300 cricket bag. Of course as normal we included as much of the details as possible.
All of our cakes are individually made and carved by hand and attention is always paid to the finer details. If you are looking for a bespoke, unique design, then you are in the right place.
Everything on this cake is totally edible, including the score board.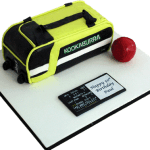 The cricket ball was also made from cake and then iced and coloured before being given a varnish look.
Like a match cricket ball we have even replicated the stitching that goes around it. The handles on the bag have been given a web effect to replicate the real ones and we have also included the top pouch on the bag.
If you have someone that is into fitness and sport, and you would like us to design or replicate a cake for you, then please get in touch.
We have made cakes for all sorts of sports activities ranging from a simple ball to a scull boat and many more.
Kimboscakes the home of fresh original baking utilising all fresh ingredients.
Please note decorations may vary slightly as each cake is baked individually.
Price for this cake (As in image) £75.00
Use the form below to order online, or if you prefer speak to or email us direct.