Ajmal Shahzad Cricket Shirt Birthday cake
SKU: [ cel-292 ] Cake size used 12 inch
Approx portions 40 – 50
All flavours available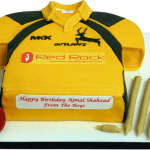 This outlaws cricket shirt cake was provided for Ajmal Shahzad birthday by the guys at his club. Once again everything on the cake is totally edible, including the cricket ball which is also made form cake and the stumps and bails.
The birthday message is at the base of the cake. The MKK logo along with the stag and outlaws have been hand decorated onto the cake.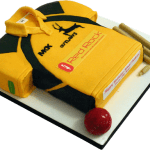 The cake is set on a 14 inch square board and is available in a full range of our cake flavours, including Gluten Free, Egg Free and many other food intolerance cakes.
Follow Ajmal on twitter here
Ajmal Shahzad is an English cricketer. A right-handed batsman and right-arm fast-medium bowler. Playing for Nottinghamshire. He previously played for Yorkshire from 2004 to 2012. However spent the 2012 season on loan at Lancashire. Even celebrities pay the same price as everyone else for their cakes.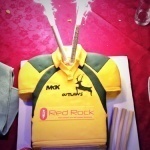 Born in a family of Pakistani background. His father migrated from Gujar Khan, Punjab and was an accountant by profession. His father also represented Idle and played in Pakistan's Quaid-i-Azam Trophy.
Ajmal Shahzad grew up in Bradford and attended Bradford Grammar School and later Woodhouse Grove School;
He lived close to the house of fellow cricketer Adil Rashid. He studied four months of pharmacy at Bradford University. Eventually transferring to Leeds Metropolitan University to study sports science to enhance his career in cricket.
If you would like us to make a cake for a a birthday or other celebration then please feel free to get in touch. Whether they are famous or not, we pay the same attention to all the detail and the price is always the same.
Please note decorations may vary slightly as each cake is baked individually.
Price for this cake (As in image) £85.00
Use the form below to order online, or if you prefer speak to or email us direct.