Christmas santa seasonal cake
SKU: [ sea-290 ] Cake size 8 inch (Full 3 inch height)
Cake type English fruit or Jamaican style fruit
Approx portions (As in picture) 40 – 50
Christmas Santa. Festive Christmas cake for children or adults. Made with our own moist fruit cake, or for the adventurous adults amongst you our very own Jamaican style fruit cake with 80 per cent alcohol used. Displayed on a 10 inch round cake board and covered in white icing. The Christmas Santa figurines and presents are all made individually by hand from edible icing.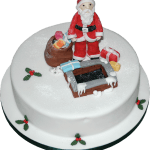 The top of the cake also has a small chimney stack and snow balls scattered around and is dusted with edible snow and glitter. An ideal novelty Christmas Santa themed cake for the smaller gathering.
If you have a specific Christmas cake or a unique design you would like us to make, then please do not hesitate to contact us directly
Please note decorations may vary slightly as each cake is baked individually.
Price for this cake (As in image) £30.00
Use the form below to order online, or if you prefer speak to or email us direct.