Jimmy Choo Shoe box and Shoe Cake
SKU: [ bir-242 ] Cake size approx (10″ x 6″ x 4″)
Shoe size approx (4-5)
Approx portions (40)
Available in a range of colours and sizes
Jimmy Choo Novelty Cake. One more for the fashion parade. A Jimmy Choo style shoe and shoe box celebration / birthday cake. Displayed on a 12″ cake board which was decorated by request in zebra type stripes and decorated with a hand made iced rose. A black ribbon finished off with a bow is placed around the edging of the cake board.
The shoe box and shoe are completely edible. All of our cake flavours are available for this Jimmy Choo cake and the most popular can be found on the link under the menu section opposite.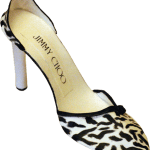 The cake has been made and stacked, and then wrapped in a soft white fondant. The lid of the shoe box is made totally from fondant and placed on top to give the effect of the shoe box. Of course this box would not be complete without the famous Jimmy Choo style name on it.
The shoe has been hand made from flower paste and carefully pieced together to resemble a Jimmy Choo style shoe. It to at the customers request was hand decorated in a zebra style finish and then finally the Jimmy Choo style label was placed inside the shoe.
The whole cake is then put together to give the finishing look.
Delivery to Nottingham and Derby centres are free of charge. We deliver all of our cakes in person all over the UK for a nominal fuel charge.
Please note decorations may vary slightly as each cake is baked individually.
Price for this cake (As in image) £85.00
Use the form below to order online, or if you prefer speak to or email us direct.